Bernie Sanders to American Airlines CEO:
"You Damn Well Have Enough Money to Pay Your Workers a Decent Wage."
In a fiery speech delivered before a packed gathering of Machinists Union leaders, Senator Bernie Sanders (I-Vt.) called out the CEO of American Airlines for his attempts to outsource thousands of jobs at the airline.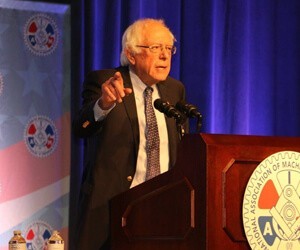 Presidential candidate Senator Bernie Sanders (I-Vt.) addresses Machinists at the 2019 IAM Transportation Conference. (Via IAMAW DISTRICT 141 FACEBOOK PAGE.)
Sanders was one of two Presidential candidates that addressed the union at its Conference of Airline and Railroad workers in Las Vegas, Nevada this week.
Senator … Read More...